Easy Cut LED Light Strips– Frequently Asked Questions
The standard packaging of LED flexible light strips is 5 meters in a roll, but 5 meters are often not used directly in daily applications, and some light strips are often cut or re-connected, how to cut led light strips and some problems related to cutting will be involved here.
The LED light strip is like a luminous ribbon, while providing incredible flexibility. Its characteristics allow the light strips to have many functions, and it is widely used in various places and areas of life. They are the perfect lighting for room. with excellent lighting solution We've prepared a guide to help you to know everything you need to know about cutting LED light strips. Here we use the new type flexible lighting COB (chip on board) light strips as a case to explain:
Can you cut led light strips?
How long can your COB LED strips be cut?
Avaliable from 10mm to 100mm different length, It depends on the type of LED strip lights you have.
The cutting interval of COB light strip is as follows: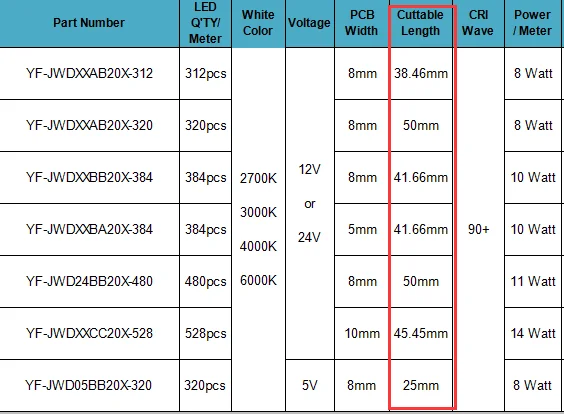 The above is the single-color cutting length. New and customized types are not listed. YIFORD will introduce COB light strips with more specifications and cutting lengths to the market in the future. Let's take a look at the cutting line lengths of multi-color light strips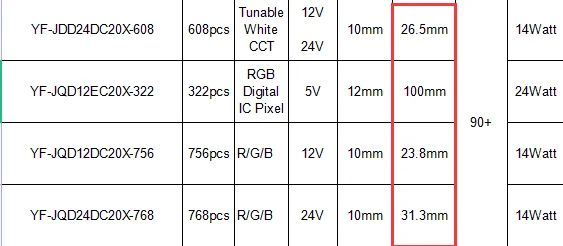 The 12V and 24V tunable white CCT color temperature led strip lights cutting lengths of the positive are the same, 12V RGB led strips and 24V RGB led strips led quantity per meter are different, and the cutting lengths are also different.
The cutting length of 24V and 12V led strip lights is not multiplied, it is determined by the internal circuit diagram design of the PCB (Print Circult Board )
The chipset on the COB light strip are small and dense, and the number of led chip is not easy to count, so it is good to cut according to the cut position marked.
How to cut led strips? Is it easy ?
Exactly – very easy. Cut COB led strip lights according to the cutting line, using a pair of scissors or a sharp knife. Be careful not to cut outside of the cutting points.
where to cut led strip? What does the cutting points look like?
The led strips is with cut point, The cut point is marked by a thin line on the copper circult board. beside is with copper dots marked + positive and – negative. sometimes we call it cut line.
Although the length of each cut varies, the cut points are evenly distributed along the length of the strip.
Can I cut the cob LED strips anywhere else?
Yes, you can, but not recommend. The cut ends of the LED strip is not electrically conductive. You can cut the LED strip anywhere you like. However, doing so will not cause the extra lights to light up.
If I cut an led strip wrong, will it still work?
After the cut is wrong, the group of light strips at the end will not light up, just cut off the group that does not light up. double check the cut line before cut led strip lights. if you cut an led strip with wrong cut line, please stop re connect led strip lights from the wrong parts.
Can you cut led light strips for me?
It is better to cut a small quantity by yourself. If you want to cut a large quantity with the same length, you can cut it on the machine. YIFORD can cut and mark it for you free of charge.
How to reconnect cut led strips after cutting?
We know that most people don't know how to solder or have a soldering iron on hand, so we now have a variety of solderless connectors for our LED strips that can be used to join two lengths of strip lights end to end.

Do you accept returns for customized led strip lights?
Unfortunately, we do not allow returns on custom strips because it is almost impossible for us to resell the product (unless someone else is looking for the exact same length of led strip lights).
Practical demonstration reference here:
you will get know all the details how to install led strips for your projects. step by step. 
You may interesting how to reconnect led strip lights
you will get know all the details how to install led strips for your projects. step by step. 
Who can I ask if I have more questions?
You can leave a message on our website. Or you can send email to cs@yiford.com. Our sales engineers will be more than happy to assist you.