LED aluminum profile--Recessed installation
Base on the shape of the profile, some of the aluminum profiles has been designed to be built into a gypsum ceiling, floor, wall, also avaliable the furniture, shelves or cabinets. 

Small size recessed mounting aluminum profiles led can be installed with a thermo conductive adhesive tape or glue,  and bigger models has own independent mounting brackets. each led aluminum channel has the install bracket or clips for installation, you can chooise it base on how will your lighting project designed.

Yiford has a large variety of led strip diffuser channel: from very small lamps, through the medium, up to large size lamps. Surface of aluminium body has very fine finish. The diffuser is made from a certified material and UV stabilised. 

All our accessories are made from aluminium in a color matching to the profiles. The shape and weight of the aluminium LED profile play a key role in the heat dissipation from the LEDs. 
For flush-mounted light strips, aluminum grooves are usually selected as auxiliary equipment. The three most direct functions of the aluminum slot are: one is to dissipate heat for the LED SMD lamp beads, the other is to facilitate wiring, and the third is to install the LED in the slot without affecting the appearance of the display cabinet.
Suitable for bathrooms when used with IP rated waterproof flexible led strips.
The profile can be recess into the floor , walls, ceiling, kitchen furniture, tables. With the complete IP67 rated encapsulation the waterproof led tape lights or led light bar, it will meet the wet environment requirements and the range of applications expands of showers, bathrooms, swimming pools, walking pads, sun terrace etc.
LED Aluminum Channel System with led strip lights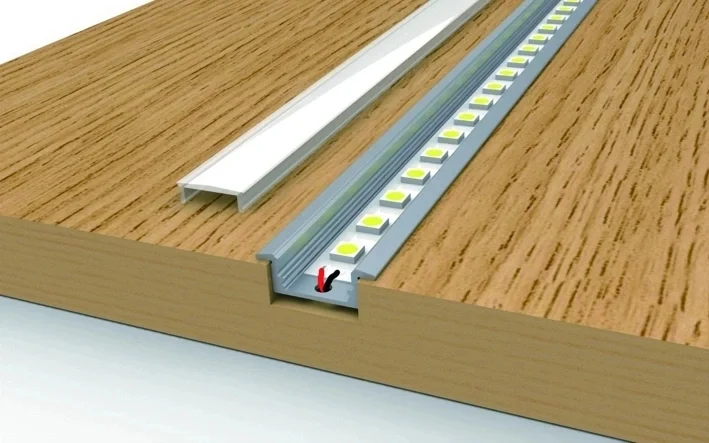 Aluminum profile and led strip lights
Dotless lighting when used with SMD led strips or COB led strip lights creating a continuous light source Illuminate inside wardrobes and other cabinets Cuttable: base on the stock, can be cut to any length up to 2meter, some items are up to 3meter, avaliable customize as longest as 6 meters.
yiford company provides a variety of led aluminum profiles, there is always one that is suitable for your project.
If you want to learn about related products through videos, you can follow my youtube channel! Or contact us directly by E-mail.