Connectors for COB led strip lights:

Which types connector could be used for the cob led strip lights?

Light strips are often need be cutted or re-connected, and some problems related to cutting will be involved here. Here we use the new type flexible lighting COB (chip on board) light strips as a case to explain all the questions you have.  you will get know How to cut and connect cob led light strips ? with different types connectors.

Solderless connectors for COB led strips--how to use

We all know that COB strips can be cut. How to reconnect after cutting? YIFORD company has designed several kinds of connectors, one with wiring in the middle and the other with two ends. also has the corner type, They can be connected without any tools, and they are very firm.
How to cut connect and power cob led light strips ?
How to Cut, Connect and Power FOB COB LED Strip lighting. LED Strips have been a wildly popular DIY lighting solution for many applications.
The LED light strip is like a luminous ribbon, while providing incredible flexibility. Its characteristics allow the light strips to have many functions,
and it is widely used in various places and areas of life. They are the perfect lighting for room. with excellent lighting solution.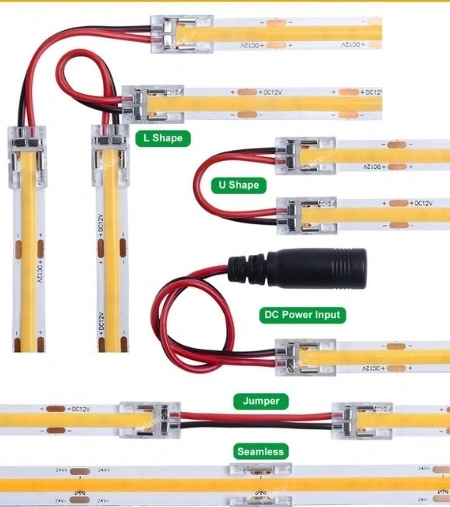 Solderless Connectors For COB LED Strips, so easy to use.